Healthcare Digital Marketing Agency
We are a healthcare digital marketing agency helping healthcare providers to thrive in the digital landscape and increase their online revenue
Are you a healthcare provider looking to establish a strong online presence and grow your brand?
Look no further than Digital Vision, your specialized healthcare digital marketing agency. We understand the unique needs and challenges faced by healthcare providers and have a proven track record of working with many brands in the industry.
Why is digital marketing important for your healthcare brand?
In today's digital era, patients actively search for healthcare information and services online. Having a solid digital marketing strategy allows you to reach and engage with your target audience effectively. It helps you build trust, showcase your expertise, and establish your brand as a reliable source of healthcare information.
Why should you invest in digital marketing for your healthcare brand?
Digital marketing offers a myriad of opportunities for healthcare providers. It allows you to connect with patients on various digital channels, provide personalized experiences, and nurture long-term relationships. By leveraging digital marketing strategies, you can expand your reach, attract new patients, and retain existing ones, ultimately driving growth for your brand.
How does digital marketing help increase your healthcare brand's sales and revenue?
Through targeted digital marketing campaigns, you can generate qualified leads and convert them into loyal patients. By delivering relevant and engaging content, you can educate your audience, promote your services, and encourage appointments or bookings. Digital marketing also enables you to track and analyze your marketing efforts, allowing you to optimize your strategies for maximum return on investment.
Why is Digital Vision the ideal digital marketing partner for healthcare providers?
Our agency has extensive experience working with various healthcare brands, and we understand the intricacies of the industry. We combine our healthcare industry knowledge with digital marketing expertise to create tailored strategies that align with your brand's goals. With our comprehensive range of digital marketing services, we can help you navigate the digital landscape, enhance your online presence, and achieve sustainable growth for your healthcare brand.
the healthcare digital marketing checklist
Made for healthcare providers like you by our experts at healthcare digital marketing, this "Ultimate Digital Marketing Checklist for Healthcare Providers" will help your brand enhance digital presence and achieve your digital goals!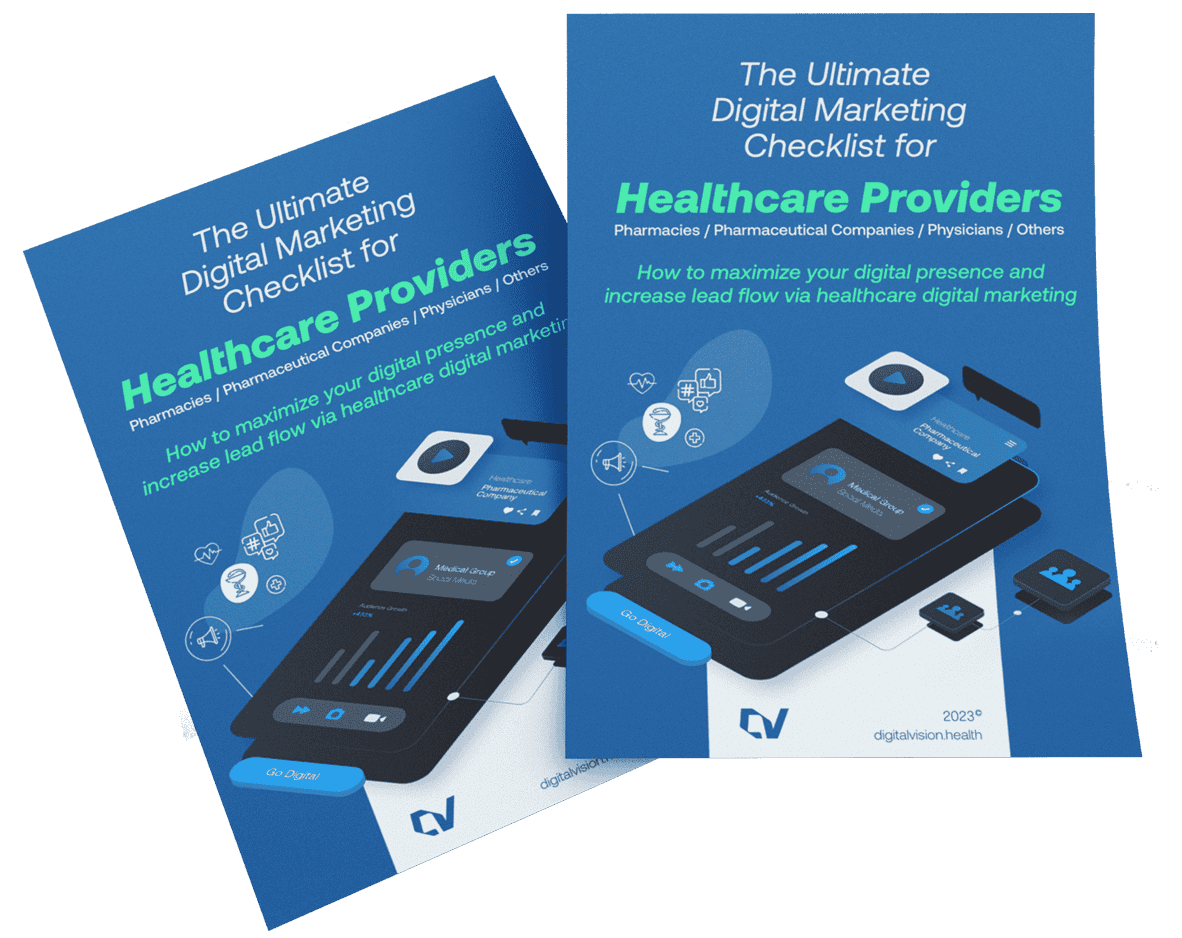 Let us have a strategy session, talk with a healthcare digital marketing expert and increase your brand's online sales!