Clinics Digital Marketing
We are a clinics digital marketing agency helping physicians to thrive in the digital landscape and increase their online revenue
Are you a physician who owns a clinic and wants to boost your online presence and drive growth?
Look no further than Digital Vision, your specialized healthcare digital marketing agency. We have a track record of working with numerous clinics and helping them achieve their digital marketing goals. Our experience and expertise in the field uniquely position us to cater to the specific needs of clinics like yours.
Why is digital marketing important for your clinic?
In today's digital age, patients increasingly rely on online platforms to search for healthcare services. Having a robust digital marketing strategy allows you to reach and engage with your target audience effectively. It helps you build credibility, enhance brand awareness, and attract new patients to your clinic.
Why should you invest in digital marketing for your clinic?
Digital marketing offers a range of benefits for clinics. It enables you to target your ideal patients with precision, deliver personalized messaging, and showcase your expertise and services. By establishing a strong online presence, you can differentiate your clinic from competitors and build trust with potential patients.
How does digital marketing help increase your clinic's sales and revenue?
By implementing tailored digital marketing strategies, you can attract a steady stream of qualified leads to your clinic. Through effective lead nurturing, you can convert these leads into loyal patients. Digital marketing also allows you to promote your services, offer special promotions, and encourage patient referrals, all of which contribute to increasing your clinic's revenue.
Why is Digital Vision the ideal digital marketing partner for clinics?
Our agency has a wealth of experience working with clinics across various specialties. We understand the unique challenges faced by healthcare providers and have developed effective strategies to address them. Our team of experts combines healthcare industry knowledge with digital marketing expertise to create customized solutions that drive results. Partnering with Digital Vision ensures that your clinic receives the dedicated support and tailored strategies needed to succeed in the digital landscape.
the healthcare digital marketing checklist
Made for clinics like you by our experts at healthcare digital marketing, this "Ultimate Digital Marketing Checklist for Healthcare Providers" will help your clinic enhance digital presence and achieve your digital goals!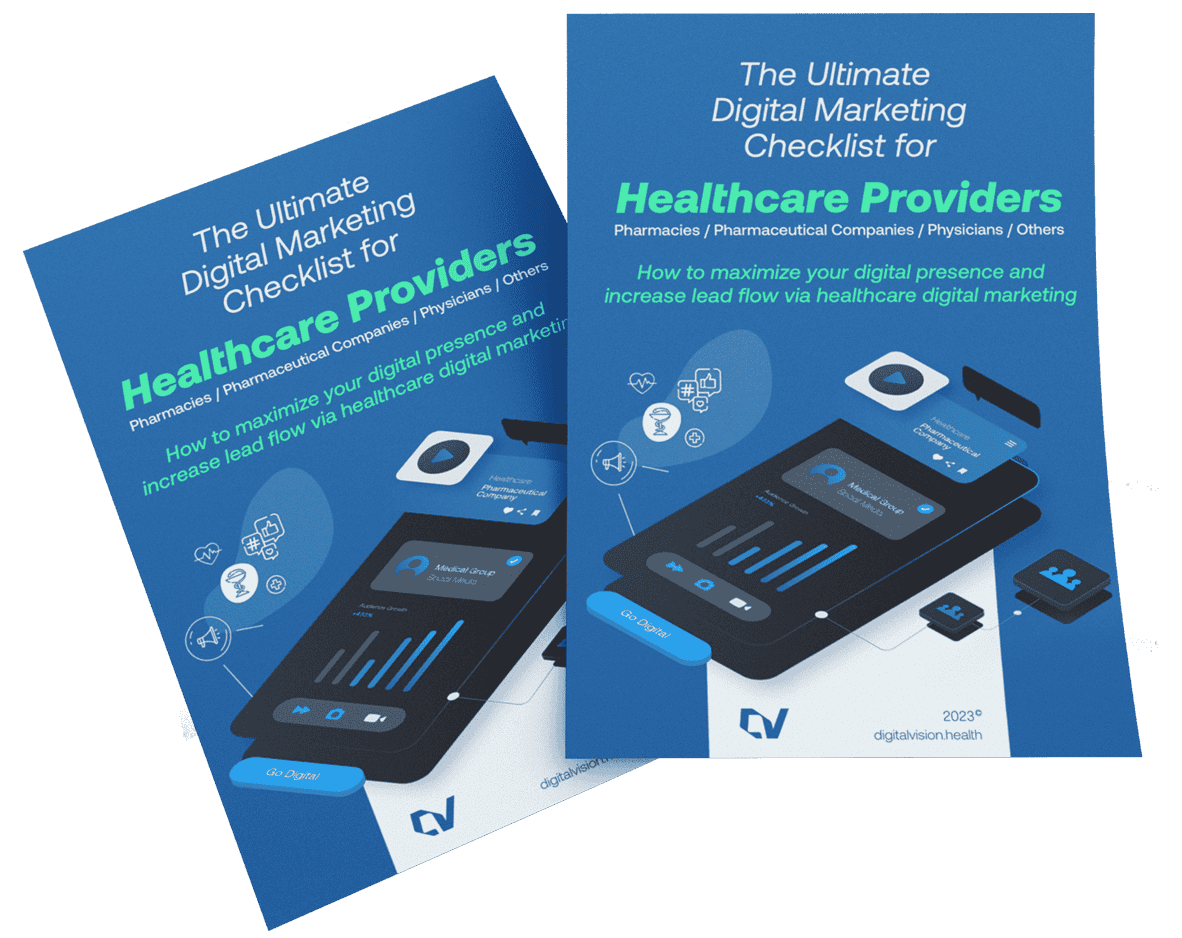 Let's have a strategy session, talk with a clinics digital marketing expert and increase your clinic's's online sales!